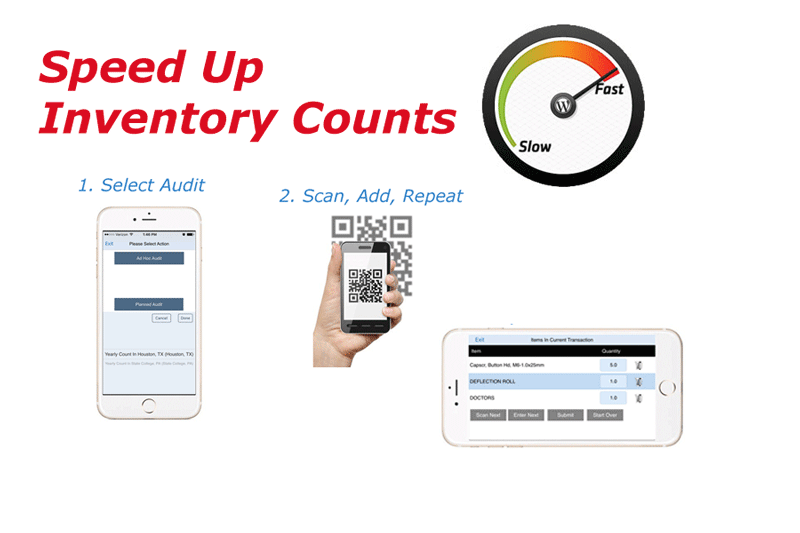 Physical Inventory Count - How Not To Do It
Just a little while ago the only way to do a physical inventory count for a small businesses was by using paper and pencil. Employees had to go wall to wall and record all inventory counts manually, either by finding the right item on the inventory count sheets, or by recording inventory item information on a blank form. Needless to say, this method isn't effective. It takes a lot of time to record inventory count manually, or to look for each inventory SKU / part number on the pre-printed inventory sheets. Manual inventory count is prone to making mistakes, double counting some inventory items and missing others entirely. Verification inventory counts often do not match, and paper notes are misplaced or lost, resulting in the multiple re-counts of the same area. Finally, all physical inventory count notes have to be manually entered into a computer - another tedious and daunting task prone to errors.
Previously small business did not have much of a choice. The alternative to the manual inventory count - inventory count using barcode scanners or mobile computers linked to a local computer network - requires a significant initial investment.
Now, when the new technologies (mobile, cloud, QR codes) allow businesses of any size to use barcode scanning for the physical inventory count, and send data directly from a smartphone to the cloud, eliminating manual entries, there is no reason to continue doing inventory counts manually.
Using Barcode Scanner Mobile App For The Physical Inventory Count & Stocktaking
Labeling Inventory With Barcodes Or QR Codes
First, you need to make sure that all inventory is labeled. If you receive inventory from a manufacturer, and it is already labeled with a barcode or QR code, you can use existing labels. If you receive inventory without barcode labels, or you produce inventory in-house, it is a good practice to label all inventory items as they are produced or when they are received in the warehouse. Barcode labeling is the first necessary step for a proper accounting of all materials, parts and inventory that you purchase, produce and / or sell.
If you are labeling inventory yourself, you can use either UPC barcodes or QR codes. If you do not have a strong preferences, use QR codes - they can be more reliably scanned by the smartphones even if the label is partly damaged, and can include much more information than a regular barcode. Many label printers are now coming with the QR code generation capabilities, and some of the inventory count / inventory management software systems have built-in QR code generators. For example QR Audit stocktaking software comes with a built-in tool for QR codes generation, layout and printing.
If you already have an established process for the printing UPC barcodes for the inventory and do not want to introduce any extra changes, smartphones can scan UPC barcodes as well - you do not have to change established procedures.
Barcode Scaning Mobile App: Using Smartphones For Inventory Scanning
Traditionally businesses were using barcode scanners or mobile computers for the physical inventory counts. However this can be quite costly, since you need to purchase multiple barcode scanners to supply all employees who take part in the physical inventory count. You also need to connect barcode scanners to the computer network, which means spending more money on the network consultants.
Now, when very affordable barcode scanner mobile applications and software are available, which allow you to use smartphones as both barcode scanners and mobile computers, using smartphones for the stocktaking may be a better choice.
Here are just several reasons why you may want to use barcode scanner mobile application rather than the traditional barcode scanners:
You do not need to spend money on the barcode scanning hardware. Company employees can use their own smartphones for the physical inventory count / stocktaking. And even if you do need to purchase smartphones or tablets, it will cost you significantly less than the traditional mobile computers or even wireless barcode scanners.
Barcode scanner does not have a screen, so there is no feedback or ability to enter data for an employee unless (s)he is next to a computer screen. Employees work blindly, not seeing what had been scanned, and cannot input data (for example scan once and enter quantity manually instead of scanning an inventory item multiple times). This can easily lead to errors (scanning the same item multiple times or missing it entirely), and takes more time if you have multiple inventory items with the same SKU / part number.
Mobile computers can give feedback and allow user entry, but can be expensive, and you will need to purchase mobile computers for all employees who are taking part in the physical inventory count.
Software for the mobile computers tend to be significantly more expensive than a barcode scanner mobile application for the inventory count.
You don't need to spend money on the network consultants to connect your barcode scanning devices to a computer network. Smartphones are usually working with a cloud inventory software, and only need cellular or wi-fi network connection to send data. If no connection is available, inventory count batches can be stored on a smartphone and submitted later, when connection is available.
Employees can take photos with a smartphone and attach them to the submitted inventory batches if inventory conditions need to be documented.
Barcode Scanning Physical Inventory With A Smartphones
Here is how physical inventory count process may look like when you are using smartphones (check out how it works with the QR Audit stocktaking software)
Divide the whole area where you plan to do physical inventory count into the sections, and assign each employee to his / her section.
Employees can use their own or company owned smartphones or tablets to scan in inventory in their designated locations. Multiple employees can do barcode scanning stocktaking at the same time.
An employee starts scanning in inventory items in his / her designated area.
If there are several items with the same SKU / part number, an employee can either scan each inventory item, or scan once and enter inventory count for the faster entry.
Inventory with the same SKU / part number do not have to be located together for the proper counting. Stocktaking software will properly sum up inventory stock of each line item submitted in the different batches and / or by different employees.
As an employee scans inventory in, running feed is displayed on a smartphone screen, so (s)he knows exactly what is scanned in the current batch, and can make corrections if needed.
Scanned inventory batches are saved on the smartphone, so an employee can stop and resume inventory count at any time without losing collected information.
Inventory batches can be submitted to the cloud at any time during the stocktaking process.
When physical inventory count is completed, all collected data is securely stored in a cloud, and reports are available on inventory count results and discrepancies.
Cloud Software For The Inventory Count Processing
Barcode scanner mobile application is one part of the physical inventory count automation. The second important part is a central database to store inventory count data, and an inventory management software to process the physical count results. After stocktaking is completed, you normally want to enter all inventory count data into a software or a spreadsheet, then compare it to inventory "on the books" and identify any discrepancies. If you are using a stand-alone barcode scanner mobile application for the inventory count, this is the part you will need to do manually.
Just as inventory data collection using paper and pencil is slow and inefficient, so is the manual data entry into the software or a spreadsheet, and trying to manually compare inventory "on the books" to the physical inventory count results. That's why the modern inventory stocktaking software usually consists of the two parts: barcode scanning mobile application to collect inventory data, and cloud backend where inventory count data are stored and processed.
Here is what happens during and after stocktaking process if you are using a barcode scanner mobile application integrated with the backend cloud software:
As employees scan inventory and submit scanned inventory batches, the data is routed to the central database on the cloud server.
When inventory count is completed, a cloud part of the inventory stocktaking software compares "on the books" inventory to the inventory count results, and produces reports on the inventory count results and discrepancies.
If there are any questions, you can review raw inventory count results which shows each submitted inventory batch, along with the date, time and employee name.
You can get various statistics on missing inventory to identify the trends and correct the problem early.
Barcode Scanning Physical Inventory Using Mobile Application: Takeaways
Now, when there are a lot of the affordable options to do a complete physical inventory count electronically, there is no reason to suspend normal business operations and go through the tedious and daunting process of manual inventory count. Although different barcode scanning hardware and physical inventory count software combinations exist to help you with the stocktaking process, an integrated cloud - mobile applications provide the most affordable and effective solution.