QR Code Data Collection Software: QR Code Digital Forms For Field Inspections And Reports
Use QR code digital forms and checklists on a smartphone to quickly complete field inspections and reports. Receive automatic alerts, instantly access completed field inspections and reports via the web dashboard.
Using digital forms for the field inspections and reporting keeps all employees in the loop and allows businesses to address issues in a timely manner. With the real time, accurate information being submitted from the field you can plan actions better and be more productive. QR Mobile Data software will help you get there. Using QR Mobile Data mobile application, field employees can scan a QR code to review assets documentation, fill out digital forms, and submit field inspections / reports to the cloud. From this moment all authorized team members can access collected information and can act on it quickly.
Generate QR Codes For The Field Assets And Equipment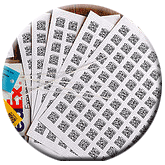 Manage field assets and equipment via the web dashboard. Generate and print QR Code labels using a QR code generation and printing tool in the QR Mobile Data software.
Create custom fields to hold all required information on the field assets. Include everything that field employees need to know: instructions, specifications, operating procedures, images, documents and any other essential information.
If applicable, re-use existing barcodes, QR codes or NFC tags on the field equipment.
Field employees can access asset information, past records and digital mobile form / checklist to complete a field report by scanning a QR code / barcode label, or NFC tag with a smartphone.
---
Create Custom Digital Forms For The Field Inspections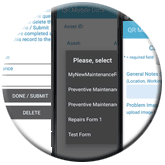 Create digital mobile forms and checklists for the field inspections in the QR Mobile Data software.
It is easy to keep digital forms current. If you adjust a process or requirements, update a mobile form via the web dashboard - and company employees will have an updated form on their smartphones.
Add clarifying text, instructions and optionally images to the digital forms. Make sure that field employees know exactly what to do.
Speed up field inspection and reporting process, minimize errors. Digital mobile forms controls allow for the data selection, checklists, radio buttons and scan in fields.
Field employees can add photos taken with a smartphone camera to the completed mobile forms for the visual documentation of an issue or a problem. They can also collect digital signatures on a smartphone.
Make sure that the field mobile forms are filled out correctly and there is no missing information. Specify which form fields are required, and a data type for each field. Each digital form is automatically validated on submission, and all form completion errors are corrected on the spot.
---
Fill Out Digital Forms In The Field On A Smartphone
Give remote employees a field reporting tool which allows for the fast and error free data collection, instant information access, and is easy to carry around - a smartphone.
QR code scan identifies an asset or equipment and brings up all information that a field technician might need - asset specifications and documentation, past records and digital forms for the field inspections and reports.
A field technician has an option to continue with the digital form he has started earlier (if applicable), or start to complete a blank digital form.
An employee can use a smartphone to take photos for the visual documentation and make them a part of the field inspection / report.
A completed digital form is automatically validated to make sure that all required information is filled out, and entries correspond to their data types.
Once the mobile form is completed and validated, it is submitted to a centralized cloud location. At this point all authorized team members can access a submitted digital form.
If signature is required, it can be obtained on a smartphone and included in the completed report.
Digital mobile forms can be completed offline and submitted all at once when the connection becomes available.
---
Real Time Field Reports Access
Digital forms completed on a smartphone are sent to a centralized cloud location in real time. Submitted field inspections and reports are instantly available to the field employees on the smartphones, and to the office employees on the computers via the QR Mobile Data software web dashboard.
Managers and office employees have a real time view of the assets conditions, problems, damages and requests. Real time information helps them organize the work efficiently and make sure that urgent problems are fixed without delay.
You can filter submitted digital forms records by multiple parameters to quickly find the exact information you need.
Create customized inspection reports: select what columns to include in the report, define filters, sorting and the output (web, .csv file or pdf file).
Create plots and graphs to visualize the collected field data, uncover trends and correlations.
Use QR Mobile Data software analytical reports to identify the most frequent problems and field assets that require most attention.
Export reports as .csv files for importing into the internal systems.
Create custom pdf reports for the internal and external distribution.
See It For Yourself - How Mobile Data Collection Can Help Your Business
---
© AHG, Inc. 2022 (Boise, Idaho)