Field Inspections Mobile Forms And Checklists Software
Mobile forms and checklists application for the field inspections and audits will save you time, reduce errors, and allow to collect diverse data types with one mobile device. Everyone involved has a real time access to the inspection results via the web dashboard, and can act on them quickly.
All types of inspections: property inspections, equipment inspections, asset audits, safety and compliance inspection, construction sites inspections, oil and gas pipes inspection, etc., etc. - have very similar workflow. You need to fill out inspection form or checklist in the field, deliver collected data to the central repository, access completed inspection forms and create reports. Use of the smartphone or tablet and mobile forms makes field inspections fast, efficient, and accurate. Centralized cloud storage of the digital documents ensures that all authorized employees have real time access to the critical information.
Create Custom Mobile Forms And Checklists For The Field Inspections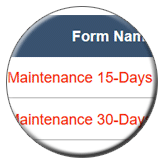 Create as many mobile forms for the field inspections as you need via a web dashboard. Use your current inspection forms (paper forms or PDF forms), or start from scratch.
If you have different inspection / audit forms for the different asset groups, you can indicate for which asset group(s) each field inspection form is valid.
Divide large mobile forms into the sections for the clarity and easier forms completion on the small smartphone screen.
Indicate which mobile form fields are required, and define data type for each form field. QR Mobile Data supports a variety of data types, including scan in fields, images, and autoscan checkboxes.
Optionally include clarifying text and / or images for the mobile form fields, so that an inspector knows exactly what he needs to fill out in each case.
Include any number of image field(s), that will allow an inspector to take photo(s) with a smartphone and include photos as part of the inspection.
Create dynamic mobile forms, where inspectors can add sections and fill them out in the field as needed.
Add / update mobile forms / checklists at any time, and your employees will always have current forms on their smartphones / tablets.
Optionally pre-fill part of the inspection mobile form and push it to the smartphones for the inspectors to complete in the field.
Create pdf reports based on the inspection results, in the field on the smartphone or later in the office.
Use pdf reports internally and / or e-mail to the outside interested parties (outside auditors, customers, etc.).
Receive an automatic e-mail alert if field inspection reveals a problem. You define what should be considered a problem when creating a custom mobile form via the web dashboard.
---
Mobile Forms Application For The Field Inspections: Complete Inspection On A Smartphone
A field inspector starts with scanning a QR code or barcode on an asset with a smartphone to get a list of the applicable inspection forms or checklists.
An inspector can complete a form / checklist that was started and pushed to the mobile devices by an administrator, finish a mobile form that was started before, or start a new form.
As an employee fills out a mobile inspection form, the data are automatically saved on the smartphone or tablet - (s)he can start, stop and resume at any time.
QR Mobile Data mobile application verifies that all required form fields are filled out, and that entry is correct for the field data type.
For image type form fields an employee takes a photo using a smartphone. Submitted images can be viewed as part of the inspection report.
An inspector can dynamically add sections to the mobile form. For example if several problems are discovered, (s)he can dynamically add a section for each problem.
An employee can scan items for the checklist instead of checking off checkboxes. QR Mobile Data mobile application will find the scanned item and check it off automatically.
If required, an employee can collect digital signature on a smartphone at the end of the field inspection.
When field inspection is completed, the result submitted to a centralized cloud location and is available to all authorized users in real time.
Optionally an inspector can create an inspection report in PDF format. (S)he can view report, print and / or e-mail to specified addresses from the smartphone in QR Mobile Data mobile application.
You define look and layout of the PDF report via the custom template. The report can contain your branding (logo, address, etc.), information on the inspected object, and inspection details, including captured image(s) and a signature.
If data or WiFi connection is not available at the inspection site, completed mobile form is saved on the smartphone or tablet. An inspector can submit all completed inspection forms at once when connection becomes available.
GPS location of the field inspection site, inspector name, date and time of the inspection are captured automatically and are transmitted along with the completed inspection form.
---
Access Inspection & Audit Reports In Real Time
Accessing Data In The Field.


An employee can access all recently done inspections and audits on a specific asset, equipment or property by scanning a QR code or barcode label with a smartphone.
Accessing Data In The Office


Office employees can access inspection and audit data via a web dashboard as soon as a mobile inspection form is submitted.
Search submitted field inspection records by various parameters (dates, location, asset or equipment, inspection type, etc.) to quickly find required record(s).
Identify and pull out all records that have specific problems or deficiencies, or did not pass a test.
Update submitted inspection record, or fill out "office only" part.
If an administrator determines that something is incorrect or missing, (s)he can push inspection form back to the mobile devices for correction / completion.
View locations of the completed inspections on a map.
Print and export inspection reports.
Create PDF report of the inspection, optionally e-mail internally, to the customer and / or external auditors.
See It For Yourself - How Mobile Data Collection Can Help Your Business
---
© AHG, Inc. 2022 (Boise, Idaho)