Mobile Data Collection Software With Workflow And Digital Forms
"With digital data collection, the sooner the better is always the best answer." — Marissa Mayer
Mobile Data Collection Workflow Software With The Field Operations In Mind
QR Mobile Data is a mobile data collection workflow software done specifically for digitizing field operations. Use a smartphone, digital forms and QR code scanning to complete all field paperwork and documentation efficiently and error free.
QR Mobile Data software is best used for the internal business tasks that require process tracking, documentation, filling out forms and data sharing. These tasks may include field inspections, audits, equipment installation and maintenance, construction project commissioning, building commissioning and maintenance, work orders production, delivery and installation, construction daily logs, field reports and requests, safety inspections, traceability and quality control, etc. The following QR Mobile Data features streamline completion of these tasks and ensure that business documentation is well organized and is easily searchable:
Mobile data collection is linked to the business objects. Digital mobile forms in the QR Mobile Data software are linked to the business objects that field employees identify using a QR code or barcode scanning. Business objects can be anything that you need to collect data for: equipment, facility, construction site, work order, project, etc., etc.
QR code scanning for the instant field data access. A QR code scan with a smartphone gives field technicians or shop floor employees all information they need to do the job effectively. The information may include equipment specifications, information, drawings, pdf documentation, instructions, manuals, as well as the previous maintenance and service history. With all field assets information readily available technicians complete the job faster and avoid costly mistakes.
Stitch mobile forms for the field data collection together using a workflow. QR Mobile Data software allows you to create custom workflows for the multi-step business processes, and attach mobile forms to the workflow steps. A workflow ensures that the process steps are done in the correct order, the correct mobile forms are filled out on each step, and nothing is overlooked or missed. Administrators can review the live status of all projects, workflow history and all completed digital forms in real time via the web dashboard.
Advanced mobile forms features for the efficient field data collection. In addition to the regular mobile forms data collection software features, such as an option to collect digital signatures, add photos to the mobile forms, capture GPS location, etc. a QR Mobile Data software has a lot of advanced digital forms features that simplifies mobile data collection and makes it more efficient. The advanced features include an ability to dynamically add repeatable sections to the mobile forms in the field, create scannable checklists, smart pre-filling of the mobile forms to minimize redundant data input, ability to pass the partially completed mobile forms between the field and the office or between different smartphones / tablets, mobile forms that can be filled over time by multiple employees, automatic e-mail alerts is the completed mobile form contains and outlier, etc.
Comprehensive, customizable web based reports on the collected data. All data collected in the field on the smartphones or tablets are submitted to the cloud in real time. Submitted mobile forms are accessible by the authorized personnel on demand from anywhere, and are easily searchable by multiple parameters. You can instantly access all collected data when you need them.
Custom PDF documents for the completed mobile forms. Create custom PDF documents for the customers or external auditors. You are in complete control of PDF documents layout, look and data - define PDF layout and what should be included using custom templates. Configure QR Mobile Data software to automatically create and e-mail pdf documents when the mobile form is submitted, or manually create and e-mail pdf documents when needed - from the smartphone after the form submission or later via the web interface.
Send field documentation to the project management software. QR Mobile Data is integrated with Procore and Asana project management software packages. Automatically send pdf documents for the completed mobile forms to Procore or Asana, attach to the Asana task or a Procore project.
Customize QR Mobile Data software for your business workflow. Customize almost all aspects of your field data collection process. Create custom workflows, define workflow steps, create custom mobile forms, custom alerts and reminders, custom pdf documents templates, custom fields for the business objects, etc., etc.
Inventory and assets tracking with the QR code scanning. Add additional optional modules to the QR Mobile Data software to extend the functionality based on your business workflow. Include field assets and inventory tracking with the QR code scanning, parts and materials tracking, time tracking, tracking of the fabrication process and assemblies building, lot number traceability, and other options. Add integration with the popular project management software packages, such as Procore and Asana.
---
Mobile Data Collection With Digital Forms And Workflow
Link business tasks that require filling out digital mobile forms together in a workflow. Attach correct digital forms to each step of the business process, ensure that all workflow steps are completed and the required documentation is collected. Fill out digital mobile forms on site using a smartphone or tablet, submit to the cloud in real time.
Create custom workflows for the mobile data collection, define workflow steps.
Create custom mobile forms and checklists for the field data collection using intuitive web interface.
Attach mobile forms and checklists to the workflow steps, so that field employees know what forms need to be completed on each step.
You can also create digital forms and checklists for the discrete tasks that are not a part of the workflow.
Use smartphone / tablet for filling out digital forms / checklists on each workflow step. Use QR code / barcode scanning to speed up the mobile data collection process and eliminate errors.
Eliminate physical paperwork, loss of collected information and double entries. Reduce employee-hours for field data collection, and eliminate costly mistakes.
Collect more information than you could have with the alternative data collection methods. Add photos and images to the collected data, capture digital signatures on a smartphone, use QR code scanning, obtain GPS location of the data collection spot.
Streamline information exchange between the field and the office. Data collected on a smartphone via the digital mobile forms are submitted to a centralized cloud location and are available to all authorized users and devices in real time.
---
Automate Mobile Data Collection With The QR Code / Barcode Scanning
QR code / barcode scanning ensures that correct mobile forms are filled out for the correct assets, speeds up field data collection and eliminates errors.
Connect field data collection to the business objects and processes. Use QR codes for the business objects identification and dynamic information access.
Scan a QR code or barcode with a smartphone to uniquely identify business object and access all relevant information in the field: specifications, documents and instructions, recently completed forms and a list of the applicable digital forms for the mobile data collection.
Use QR codes to scan in information into the mobile forms / checklists, eliminate errors associated with the manual data entries.
Use autoscan option available in the QR Mobile Data software digital forms and checklists. Witn autoscan option a user scans a QR code instead of checking off a checkbox in the mobile form. Scanning a QR code makes filling out checklists faster, and verifies employee's presence on site.
---
Streamline Field Workflow With The Instant Data Access
Make sure that the field employees have all information they need to do their job.
Increase productivity and field operations effectivness by giving field employees instant access to the information they need to get the job done. Instead of calling an office or another technician and waiting for a response, field employees can scan a QR code with the smartphone to access all necessary field asset information.
Information may include images, drawings, pdf documents, specifications, operating instructions, emergency procedures and anything else you need. You control what exactly field employees can access on their smartphones via an QR Mobile Data software administrative web dashboard.
Field technicians can review recently completed mobile forms for the scanned asset, and plan the work based on these data.
Employees with the right permissions can add new information or update a field asset data on a smartphone. For example they can take a photo with a smartphone camera and add it to the field asset, take and record new measurements, etc.
---
Use Mobile Data Collection For The Quality Control And Traceability
Traceability and quality control helps you detect and eliminate problems as they happen, saving you a lot of money and eliminating bigger problems down the road. When a problem is reported, you can always go back and restore the entire workflow, pinpoint where the problem could have happened and make process improvements.
The following QR Mobile Data software features help you streamline traceability and quality control:
Trace all parts, materials and finished products through the workflow steps, from receiving to shipping and installation.
Track equipment and instruments that were used on each workflow step.
Create custom quality control forms and inspection checklists based on your project requirements.
All tracking, data collection, and filling out quality control forms is done in the field using a smartphone or tablet, QR code scanning and digital mobile forms / checklists.
Collected data are sent to a secure cloud in real time, are immediately available to the authorized personnel, are accessible on demand from anywhere and are easily searchable.
You can access an entire workflow trail and data collected using digital forms for each project at any time.
Each project traceability documentation and quality control forms are securely preserved in the cloud. Electronic documents are accessible to the authorized users of the QR Mobile Data software on demand from anywhere.
---
Keep Business Documentation On All Projects In Order
Field projects documentation collected via the mobile forms is instantly sent to the secure cloud, and is stored there as digital records.
Authorized users can access field documentation on demand, in real time, on the office computers via the web dashboard.
You can filter collected data by multiple parameters to quickly find required information, download data and create pdf reports.
Centralized cloud storage ensures that all authorized users have access to the collected data in real time, can easily find required documentation, and nothing is misplaced or lost.
---
Organize And Track Business Assets And Inventory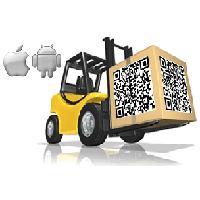 Combine mobile data collection with assets and inventory management for a complete field productivity solution.
Track assets (tools and equipment) and inventory (materials, consumables and parts) in real time, in the field and in the warehouse, with a smartphone or tablet and a QR code scanning.
Process inventory transactions on site by scanning a QR code or a barcode label with a smartphone running iOS or android.
Collect any additional data on the inventory transaction if applicable, take photos and collect digital signatures.
Customize every aspect of your inventory management / asset tracking process. Define everything that you want to track, record and report via a QR Inventory software web dashboard.
Review complete equipment and inventory reports: inventory stock, equipment location, transactions history, usage, statistical and analytical reports.
Take QR Mobile Data Tour Get A Quote / Request A Test Drive
---
© AHG, Inc. 2022