Business Checklist Mobile Application For The Field Teams
Business checklists mobile application helps field teams track operations and tasks completion using a smartphone. Smartphone based checklists ensure that business tasks are completed correctly and nothing is missed.
QR Mobile Data software allows you to create business mobile checklists and forms for the field teams to fill out on the smartphones or tablets. With QR Mobile Data business checklist application, field employees can check off completed tasks (or scan QR code for each check point), collect additional data, take photos and collect signatures. Completed mobile checklists are sent to a centralized cloud location from the smartphone in real time.
Create Business Checklists To Use In The Mobile Application
Create mobile business checklists for tracking business tasks and tasks completion.
Field employees can check off completed tasks in the mobile application, or scan a QR code for each completed task. Scanning QR codes allows field employees complete business checklists faster, and verify that an employee in fact completed the task.
You can create different mobile checklists for the different group(s) of assets or properties (e.g. equipment inspection checklist will be different from the job site safety inspection checklist).
Add fields for the additional data collection for each completed task (notes, photos, etc.).
QR Mobile Data business checklists allow field employees to dynamically add line items to the checklist as needed.
Mobile checklists in QR Mobile Data application support clarifying text and image(s). You can illustrate the task at hand and make sure field employees know exactly what to do.
Indicate which tasks are required. An employee will receive a warning if he tries to submit a checklist with the required task(s) not completed.
Include any number of image field(s) in the mobile checklist. An employee will be able to use these fields for taking photos with a smartphone, and include them in the completed checklist for visual documentation.
No matter how often you need to change or adjust workflow and processes, you will be able to easily adjust corresponding business checklists via a web dashboard.
---
Use Mobile Application To Fill Out Business Checklists On A Smartphone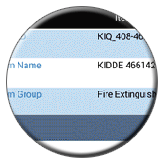 Field employees scan QR code on the asset, property or infrastructure with a smartphone to get a relevant mobile checklist.
Employees can review the list of business tasks to complete, instructions, and check off a checkbox for each task when it is done.
Optionally an employee can scan QR code for each completed task / check point, instead of looking for the correct checkbox. QR code scanning will also ensure that an employee was physically present at each check point.
For each business task / check point an employee can enter additional information and take photos for visual documentation.
Line items can be added to the mobile checklists dynamically as needed. For example, if problems are found, an employee can add a line for each problem to describe it and take a photo.
As an employee fills out a mobile checklist, data are automatically saved on a smartphone - (s)he can stop and resume at any time, and be sure that collected information is not lost.
If a customer or supervisor needs to sign off on the completed checklist, an employee can capture a signature on the mobile device.
Completed checklists are submitted to a centralized cloud location and are instantly available to all authorized users, on the office computers and mobile devices.
---
Completed Business Checklists Are Securely Kept In The Secure Cloud
All completed mobile checklists are stored in a secure, centralized cloud location. Authorized employees can access collected records in real time from any device and location.
You can search completed checklists by multiple parameters to find the exact record you need.
Monitor what had been completed, and any found problems in real time.
Print and export reports. Create custom pdf reports for the clients and / or external auditors.
See It For Yourself - How Mobile Data Collection Can Help Your Business
---
© AHG, Inc. 2022 (Boise, Idaho)