Workflow Software With Custom Mobile Forms
Automate workflow using custom mobile forms for Android, iPhone, iPad. Reduce manual work, eliminate errors and streamline information flow for better results and increased productivity.
Behind Every Mobile Form There Is A Business Object Or A Process
QR Mobile Data is more than a random collection of the mobile forms. It links mobile data collection to your business workflow, objects, processes and procedures. As a result, you have a complete documentation of all business operations, securely stored and accessible in real time.
QR Codes For Dynamic Information Access
Use QR codes to identify business objects and dynamically access information in the field.
Scan QR code with a smartphone to review object details, recently submitted records and get a list of relevant forms for data collection.
Generate and print QR code labels using built-in QR code generation tool.
Custom Mobile Forms For Data Collection
Give your employees the right tools for collecting data, documenting processes and submitting reports in the field. Mobile data collection using smartphones and QR code scanning reduces data collection time, eliminates double-enties and errors, ensures that collected data are not misplaced or lost, and deliveres information to the right people fast.
Create custom mobile forms via a web dashboard
select data type: text, number or date
select if the field is required
select if user should enter data manually, select from the list or scan in
control form fields order
break large forms into categories for easier completion
add clarifying text to exlain what needs to be done
add clarifying image to show what part to check
allow users to upload image(s)
update forms any time
set form submission cycle and receive alerts when next submission is due
link forms to the group(s) of business objects
Fill out mobile forms on a smartphone
scan QR code on the object to identify it and get a list of relevant forms
select a form from a list of applicable forms
fill out questions in each category
enter data manually, select from the list or scan in
take photo(s) for visual documentation
your data are auto saved on the smartphone - start, stop and resume any time
when the form is completed, submit to a centralized cloud location
optionally capture a signature
GPS location of the form submission is automatically recorded
Mobile Data Access
Make sure that your employees have access to the information they need to do their job, without delays and miscommunications.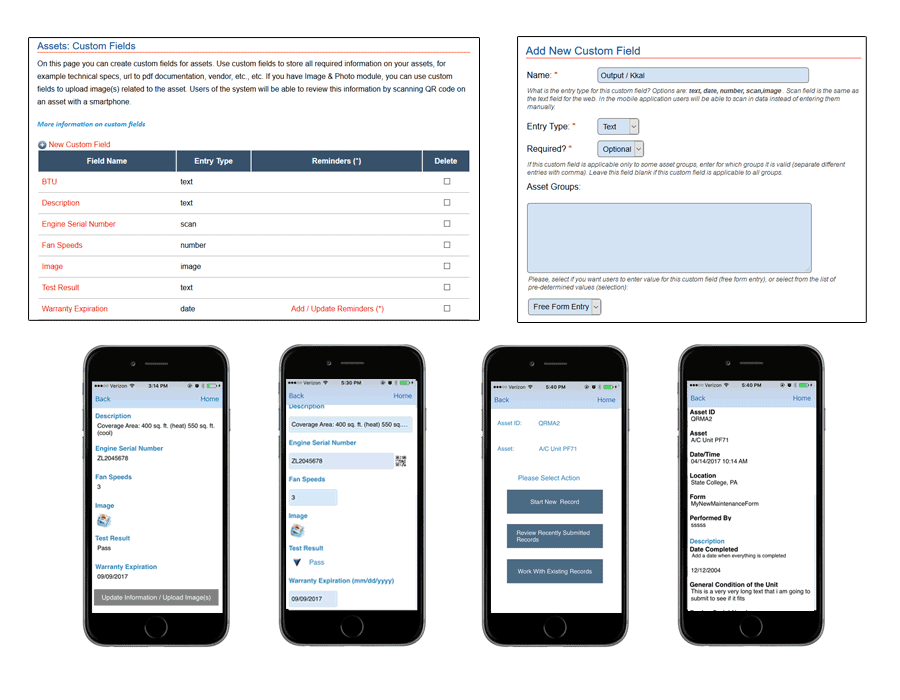 Create custom fields via a web dashboard
Create custom fields to hold all required object information:

item specification
instructions
operating procedures
images
drawings
url to pdf documentation
anything else you need
Access on a smartphone
Scan QR code with a smartphone to get access to the object information:

static information
list of recently submitted records
details of each record

Users with admin access can:

update object information on site (take and upload photo, enter new measurements, etc.)
add new object on site using a smartphone
Cloud Storage & Real Time Reporting
Collected data are stored in a centralized cloud location
Access submitted information in real time
Search records by multiple parameters to find required information fast
Review form submission locations on a map
Print and export submitted data
Notifications & Alerts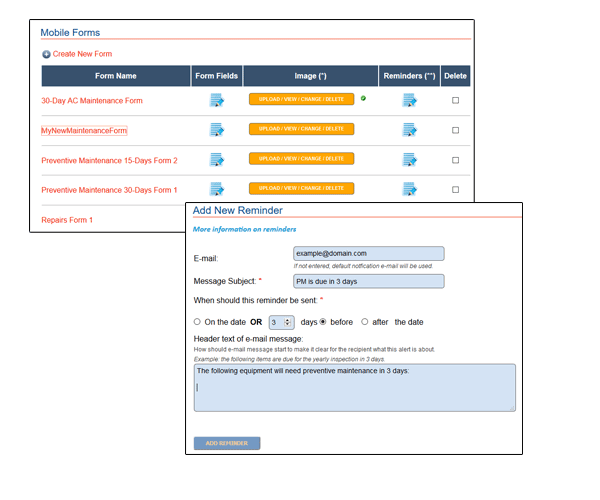 Create custom reminders and never miss an important task or event again
Add reminders to the custom date fields (e.g. warranty expiration) and receive automatic alerts when the date is approaching (e.g. warranty is about to expire)
Add reminders to the forms, and receive automatic alerts when a task needs to be completed
All objects due for a reminder are included in one alert e-mail
Specify to whom reminder should be sent, how many days in advance, subject and header text of an e-mail message
Add several reminders for the same event (e.g. 5 days in advance and 1 day in advance)
Assets And Inventory Management
Use QR Mobile Data together with QR Inventory for a complete business process management and traceability solution. Track assets and inventory on site using QR code / barcode scanning and a smartphone, collect any additional information for inventory transactions. Review real time reports on inventory count, locations, transactions history and usage via a web dashboard. Customize to your business workflow: define everything that you want to track, record and report via an easy to use web interface.
Track assets and inventory on site using a smartphone
Use smartphone for QR code / barcode scanning
Record inventory or assets transactions
Look up inventory stock and locations for a scanned item
Review asset or inventory information
Add new asset or inventory on site, take photos using a smartphone
Update asset information, take additional photos
Submit information to the cloud in real time
Control inventory management process and review reports via a web dashboard
Manage assets, inventory, locations and users of the system
Generate QR codes for assets and inventory, lay out and print QR code labels
Define all aspects of your inventory management process: create custom transaction types, what data do you want to collect during inventory transactions, custom fields to hold assets and inventory information, and more.
Review and export reports on inventory count, locations, transactions history and usage
QR Mobile Data Video Demo Get A Quote / Request A Test Drive
---
© AHG, Inc. 2017