Digital Mobile Forms And Checklists Software For Field Data Capture
Digital mobile forms and checklists software helps you automate business process, become efficient and productive. Capture all required data in the field using smartphones, smart digital forms and QR code scanning. QR Mobile Data advanced reporting allows you to analyze and visualize data collected via smart mobile forms and use these data to optimize the business process.
Use Smart Digital Forms And Checklists For Field Data Collection
Create digital mobile forms for field data collection using an online mobile forms builder tool. Make mobile forms and checklists a part of a workflow, or use stand alone digital forms for the descrete tasks that are not a part of the process.
Split long mobile forms into the sub-forms for better logic and easier form completion on a small smartphone screen.
Add clarifying text and / or images to the digital mobile forms and checklists. Make sure that field technicians know exactly how to fill out the form and what should be entered into each form field.
Define data types for the digital form fields. Specify if the field is required or optional.
Create form controls that better accommodate your business tasks. Online mobile forms builder allows you to add manual input form fields, selection lists, checkboxes, radio buttons, scan-in form fields, autoscan checklists, image capture fields, repeatable form sections and digital signature capture.
Make sure that field technicians get a correct mobile form to fill out - link digital forms to the asset groups and / or process workflow steps.
Review and update digital forms and checklists anytime via a web dashboard. Field employees will always get the latest mobile forms and checklists on their smartphones.
Optionally an administrator can pre-fill part of the information in the mobile form before pushing it to the mobile devices, or fill out "office-only" part after the mobile form is submitted.
Field employees can pass partially completed digital forms between the mobile devices, so that each employee fills out his / her part of the form or checklist.
How to create and use mobile forms with QR Mobile Data software (FAQ)
Mobile forms capabilities in QR Mobile Data (FAQ)
Advanced Smart Digital Forms Features That Set QR Mobile Data Software Apart
What makes QR Mobile Data digital mobile forms smart, dynamic, and accommodating to various business processes and tasks.
Autoscan checklists. If your mobile forms include long checklists it might not be easy to find the right checkbox to check off. QR Mobile Data mobile application simplifies this process. You can allow a field team to scan a QR code for the completed task, and the right checkbox will be checked off automatically. Date and time of the scan is recorded as well.
Dynamic digital forms with repeatable sections. If your mobile forms include line items (for example lines on the invoice, a line for a problem description, etc.) you may not know beforehand how many of these sections will be needed. QR Mobile Data software allows you to create digital mobile forms where field employees can add the repeatable sections to the form on demand as needed, and fill them out. Repeatable sections can include the same controls as the regular digital forms: input, selection lists, checkboxes, radio buttons, scan-in fields, and photos taken with a smartphone camera.
Pass digital mobile forms / checklists between the field and the office. With QR Mobile Data software field / office communication is easy and happens in real time. An office employee can fill out a part of the digital mobile form / checklist online, and push the form to the mobile devices for completion. Once the digital form is completed and submitted, an office administrator can fill out office only part. Optionally, if something is missing, digital form or checklist can be pushed back to the mobile devices with comments.
QR Mobile Data software allows you to pass digital mobile form between devices, so that each employee fills out his part. If you have a situation where multiple employees handle different parts of the same job, you can easily handle it with QR Mobile Data mobile application. Each employee can fill out his / her part, and submit incomplete digital form or checklist for the next employee to take over. When all parts of the mobile form are filled out, the completed form is submitted to the server.
Create custom pdf reports on the smartphone. Need to e-mail completed and signed mobile form internally or to the client? QR Mobile Data mobile application allows you to create pdf report and e-mail it to the selected addresses from a smartphone. You define what data will be included in the pdf report, report look and layout via custom MS Word template.
Smart digital forms linked to a workflow. You can fill out the discrete mobile forms, or link mobile forms to the workflow steps. In the latter case an employee will see only mobile forms that need to be filled out on the current step. You can make mobile forms required or optional. All required mobile forms must be filled out before the project is moved to the next step.
Create digital mobile forms that can be filled out over time. Some process steps may require recording multiple observations over time (for example, collecting temperature / pressure conditions). QR Mobile Data mobile application allows you to create digital forms where observations can be added as needed on different mobile devices.
Handle products transformation (mixing, splitting, conversion) in one mobile form. QR Mobile Data mobile application allows you to easily handle product transformation during the production process. You just need to fill out one digital form, scanning in lot numbers and filling in quantities / weight of the incoming and outgoing products. The traceability and product lots history is maintained throughout all of the transformations.
Data Analytics Create custom reports, analyze and visualize collected data to get meaningful insights into your business operations and make better business decisions.
Create Custom Workflows To Track Business Processes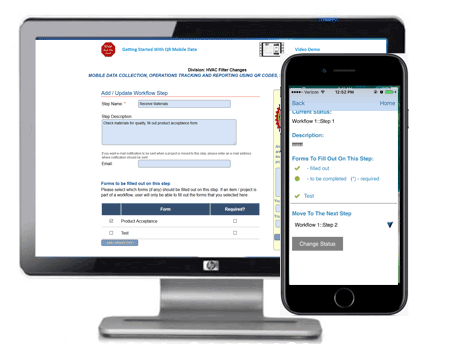 Create custom workflows for your business processes via the web interface. Define workflow steps, provide each step description for your employees.
Create digital mobile forms for data collection on each process step. Attach mobile forms to the workflow steps, make forms required or optional.
Employees use QR Mobile Data mobile application to track project through the workflow steps. Mobile application is used for QR code / barcode scanning, moving project to the next step and data collection.
You can collect any kind of data using digital forms on the mobile devices. Some examples are: environmental conditions, chemical composition, serial numbers of used containers and instruments, what was done, encountered problems, etc.
All data collected using mobile forms are automatically linked to the scanned project and a workflow step.
Collected data are sent to a centralized cloud location in real time, so all employees are in the loop. All authorized users have a live access to the active projects: progress, who did what and collected data.
Automatic notifications are sent to the selected users when a project is moved to the next step.
You can review the detailed history of all past projects: dates, employees, steps completed, data collected on each step, how long did it take to complete each task, filled out forms and documentation.
Analyze collected data to find where the bottlenecks and delays in the process are happening and what are the reasons. Use data analyzis to optimize your business process and become more efficient.
How to create and use workflows in QR Mobile Data software (FAQ)
Paperless Field Data Collection Using Mobile Application
Use regular smartphones or tablets running iOS or Android for the paperless field data collection. Save money on buying dedicated data collection hardware, such as mobile computers.
Identify an object for the data collection by scanning QR code or barcode with a smartphone. Avoid manual entry errors. Make sure that employees fill out the correct mobile form.
Field technicians can select from the list of the mobile forms which are relevant to the scanned object, and if applicable - workflow step.
Mobile forms design (splitting long forms into the sub-forms, clarifying text and images for the form fields, minimal manual entry) makes field data collection fast and easy.
Reduce manual data entries and associated errors. An employee can scan data into the mobile form fields, select value(s) from the list and take photos.
Smart digital forms have built-in data validation and checks to ensure that forms are filled out correctly.
Mobile forms in progress are automatically saved on the smartphone. Mobile application user can start, pause and stop at any time and never lose completed data.
Field employees can fill out digital forms on the mobile devices with or without wifi or data connection. They can submit completed mobile forms to a centralized cloud location immediately, or when connection becomes available.
Use a smartphone as a camera to take photos and attach to the mobile forms for visual documentation.
Capture electronic signatures on the mobile devices.
GPS location of the mobile form submission is automatically recorded and can be viewed on a map.
Field technicians can create pdf report based on the data collected via digital mobile forms. Pdf reports can include object information, collected data, images and signature.
You define looks and layout of the pdf reports using custom templates.
Field technicians can view, print and e-mail pdf reports to the selected addresses from a smartphone.
QR Mobile Data mobile application has a built-in time tracking capabilities. Users can easily track time they spent working on a task by clicking Start / Stop buttons.
How mobile data collection works in QR Mobile software (FAQ)
Real Time Data Access In The Field
Make sure that field technicians do not waste time and make wrong decisions due to the lack of information. Using QR Mobile Data mobile application, field employees can access all data they need to do their job by scanning a QR code with a smartphone.
You control what data should be accessible via the mobile application. The data can include asset specifications, drawings, pdf documentation, instructions and anything else you need.
Users with the data edit privileges can update an asset information using QR Mobile Data mobile application. For example, they can take and record new measurements or add an image.
Field employees can access all recently submitted records for the scanned asset. These can include service and maintenance records, inspection checklists, conditions assessment, and more. Access to this information ensures that field technicians make better and more informed decisions, and avoid costly mistakes.
Secure Cloud Storage Of The Digital Documents
Digital mobile forms submissions are stored in a secure cloud as electronic records, are never misplaced or lost.
All authorized users have an access to the real time data, on the computers in the office and on the mobile devices in the field.
You can filter records by multiple parameters (dates, serial number, ID, item name, category, specific mobile forms and submitted data) to quickly find what you need. (Example: find all equipment that failed a specific test last month)
Review projects progress, status, history, collected data and completed mobile forms via a web dashboard. Export reports into a .csv file for further processing.
Update submitted mobile form records if necessary, or fill out "office only" part. If submitted form has problems, an administrator can push it back to the mobile devices for correction / completion.
Custom Reports And Data Analysis
Paperless data collection in the field using digital smart forms and checklists is only a part of the story. QR Mobile Data software allows you to create custom reports, analyze and visualize collected data for the better business insights and decisions.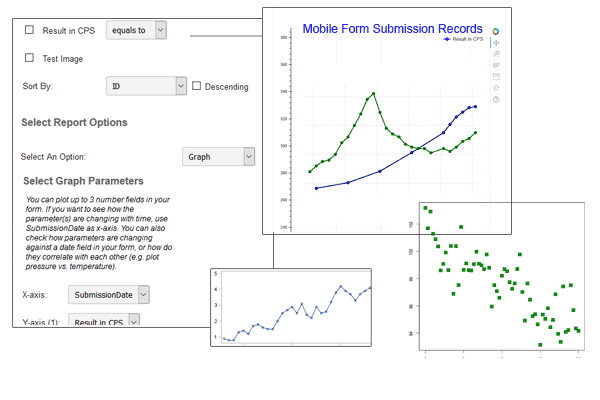 Create custom reports based on the smart digital forms submissions. Select granular filters to show what you want to display, and select fields that should be included in the report.
Review the exact information you need in one place.
Create plots and graphs to visualize data collected in the field, uncover trends and correlations.
Create statistical reports to see the big picture.
Review reports online, download as .csv or pdf files.
Use collected data to get insights into your business process and optimize your business operations.
Notifications & Alerts
Create custom reminders to alert you on the next routine inspection, task to complete, next step in the process and other important events.
Attach reminders to any date field and receive automatic alerts when the date you specified is approaching (e.g. warranty expiration date).
Specify when to send a reminder, to whom, the subject and header text.
Create multiple reminders for the same event (e.g. 5 days before, 3 days before and 1 day before).
Asset And Inventory Tracking & Traceability
Use QR Mobile Data software with QR Inventory for a complete asset and inventory tracking and traceability solution.
Track assets and inventory in multiple locations with a smartphone or tablet.
Process inventory transactions (such as check in or check out, restocking inventory, take inventory out for a job, return unused inventory, etc.) by scanning QR code or barcode on the item with a smartphone running iOS or android.
Results of the transaction are immediately available to all authorized users in real time.
Customize every aspect of your inventory management / asset tracking process. Define everything that you want to track, record and report via a web dashboard.
Review and export reports on inventory count, locations, transactions history and usage. Filter reports by custom fields you created.
Receive low inventory alerts.
Additional modules to further extend software functionality, from assemblies & kits to purchase orders and invoices management to QR code based ordering.
Take QR Mobile Data Tour Get A Quote / Request A Test Drive
---
© AHG, Inc. 2019 (Boise, Idaho)