Digital Forms For Business: Replace Business Paperwork With The Digital Forms
Use business digital forms software to eliminate physical paperwork and access electronic records on demand from anywhere
Go paperless with the digital forms custom made for your business workflow. Use business digital forms to collect data in the field and send to a secure cloud location in real time. Create pdf documents based on the submitted digital forms. View, print, e-mail electronic documents internally, to the customers or to the outside auditors.
Create Business Digital Forms Online, Fill Out On a Smartphone
Create custom digital forms for your business via an admin web dashboard.
Optionally pre-fill part of the digital form online before pushing it to the mobile devices.
Make it easy for the field employees to fill out digital forms: include instructions, scannable fields and checklists, selection lists, checkboxes, hint lists, repeatable sections that can be added to the digital form dynamically as needed, and more.
Field technicians fill out digital forms on site, in the field or on the shop floor, using a smartphone or tablet.
An employee can take photos with a smartphone for visual documentation, and attach photos to the digital forms.
If a supervisor or a client needs to sign off on the form before submission, an employee can collect a signature on the mobile device.
Digital forms can be filled out at once or in steps. All data are saved on the mobile device until the form is completed and submitted to the server.
Once digital form is submitted, it is accessible by all authorized employees, on the mobile devices and on the office computers.
---
Store Business Digital Forms Submissions In The Cloud, Access On Demand From Anywhere
All records collected with the business digital forms are sent to a centralized cloud location, where authorized employees can instantly access and review them.
Search submitted digital forms by date, project, job number, location, record type or completed form fields to find exactly what you are looking for (for example, pull out all records that did not pass a specific quality control test).
Access digital records online, download as .csv file, or create pdf documents with custom layout. E-mail pdf internally, to the customer or external auditors.
---
Create Custom PDF Documents Based On The Digital Forms Submissions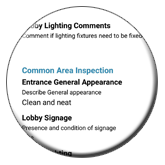 Create an MS Word template for each mobile digital form to define what to include in the PDF report, and PDF report layout.
Include your branding (logo, address, etc.).
Include information on the object for which data were collected (an asset, product batch, project, property, infrastructure, etc.). Object information will be inserted dynamically when pdf report is created.
Include collected information, image(s) and signature.
Field employees can create PDF report on the mobile devices after the mobile digital form is completed. They can view, print and / or e-mail pdf document from the mobile device.
An administrator can create / re-create pdf document when reviewing digital forms submissions via the admin web dashboard.
See It For Yourself - How Mobile Data Collection Can Help Your Business
---
© AHG, Inc. 2022 (Boise, Idaho)