QR Mobile Data is more than a collection of the mobile forms your employees need to fill out. It is a complete solution that links together business objects, processes, workflow and forms for data collection. Business objects can include assets, equipment, properties, product batches, employees, clients, or anything else you are working with. Each object is identified by QR code or barcode. An employee can instantly access and collect data by scanning QR code label with a smartphone. Need to track a production process or project progress? Use a smartphone to move a project to the next step and fill out relevant forms. Collected records are stored in a secure cloud, and are available in real time to all authorized employees.
Fully Automated Mobile Data Collection, Access, Storage And Reporting Process

Create Custom Mobile Forms
Create custom mobile forms for field data collection and reporting using a simple web interface. Update forms anytime as needed.
Collect Data In The Field
Use regular smartphone, custom mobile forms that you created and QR code scanning to collect data in the field, fast and error-free.

Create Custom Workflow(s)
Create custom workflows, define workflow steps. Link mobile forms to the workflow steps. Track project steps and status in the field using a smartphone.

Access Critical Information
Access all information on an asset in the field by scanning QR code with a smartphone. Get all data that you need, from specifications to instructions to recently submitted records.
Secure Cloud Storage
Submitted records are stored in a secure cloud. Authorized users can access real time data from anywhere, via a web dashboard or on a smartphone.
Notifications & Alerts
Create custom reminders to alert you on the next step in the process, upcoming task or an important event.

Custom PDF Reports
Create custom pdf reports based on your templates, on the smartphone or via a web dashboard. E-mail reports internally or to the client.
Mobile Time Tracking
Your employees can track time they spent working on the task, project or equipment on a smartphone. Scan in location and / or item, submit time log with one click.
Assets And Inventory Tracking
QR Mobile Data is fully compatible with
QR Inventory
for asset tracking, inventory management and traceability.
More QR Mobile Data Features Get A Quote / Request A Test Drive
Mobile Data Collection Is Beneficial For A Variety Of Business Scenarios
From field inspections and audits to tracking and documenting production processes to reporting equipment conditions in the field, QR Mobile Data will help you become more productive and efficient.
Does your business workflow include collecting data in the field? Do you need to track projects progress? Collect documentation on a production process? Have quality control and traceability requirements? If so, QR Mobile Data will be a good fit for you. It will help you perform the job faster and eliminate errors. Your documents will be safe, organized, and easily searchable. You won't forget important tasks and events. And your employees will have timely access to the data, in the field or in the office.
Mobile Inspections & Audits
Turn your paper inspection forms and audit checklists into the mobile forms. Employees will fill out the forms anywhere using a smartphone or tablet, with or without internet connection. Update forms as needed, and your employees will always have the latest forms on their mobile devices. Store data in a centralized cloud location. Give authorized employees real time access to the inspections results.
Equipment Tracking & Maintenance
Use smartphone as QR code scanner, data collection and look up tool. Record equipment service and maintenance, access equipment specifications and recent service history in the field by scanning QR code with a smartphone. Extend equipment lifetime - create custom reminders and never miss preventive maintenance or routine inspection.

Manufacturing Data Collection
Track product batches through the manufacturing production process. Monitor and record details of each production step on site using a smartphone. Document date, operator, used materials, equipment or containers, and all other applicable information. If there is a problem with a specific product batch, you can restore the whole chain of events, pinpoint the cause of a problem and correct it quickly.
Business Operations Tracking
Do you need to keep records on the routine operations and procedures done on an asset or property? Track trees pruning and fertilization in an orchard? Or do routine property damage assessment? No matter what the tasks are, QR Mobile Data will help you document them efficiently and error free. QR code scanning and mobile forms allows fast and accurate data collection in the field. Cloud storage ensures real-time centralized data access.
Standard Operating Procedures, Checklists
Make sure that your employees follow standard operating procedures. Use QR Mobile data to create custom checklists with detailed instructions and images. Field employees access applicable checklist by scanning QR code on an asset or property with a smartphone. As en employee completes each task, he will check it off on a mobile checklist. When done, completed checklist is submitted to a centralized cloud location.
Mobile Forms Workflow Management
Modernize your business processes by adding mobile forms data collection and access to your workflow. No matter where your employees are performing their work tasks, they will have up-to-the minute access to the operating procedures documentation and checklists, current status of the process or project and mobile forms to collect data.

Project Status Tracking & Documentation
Get a complete insight into your business workflow. Monitor projects progress, access all accompanying documentation via a web dashboard. With QR Mobile Data your employees can track project status and record all necessary details on each step in real time. All they need to do is scan QR code label and fill out a mobile form on a smartphone.
Quality Control, Documentation, Traceability
Inventory and production process traceability is a requirement for some industries. It is important information to collect for all manufacturing companies. Using QR Mobile Data, you will be able to create custom quality control forms for the employees to fill out on site using a smartphones. The entire track chain of events and documentation for each product batch is stored in a cloud and can be accessed on demand.
QR Code Data Collection: Field Reports & Requests
Improve communication between the field technicians and the office. Give field employees necessary tools to report equipment damage or request service in a timely manner. All they need to do is scan QR code on the equipment with a smartphone, and fill out a mobile form. Optionally take a photo for visual documentation. Office employees receive this information right away, and can react quickly.
More On Mobile Data Collection For Varius Business Scenarios Get A Quote / Request A Test Drive
Mobile Workflow Management With Custom Forms - Track Your Business Process On A Smartphone
Track business operations, production process using mobile devices for barcode scanning, data collection and look up. Move projects through the steps, record what was done on each step by filling out mobile forms on a smartphone or tablet.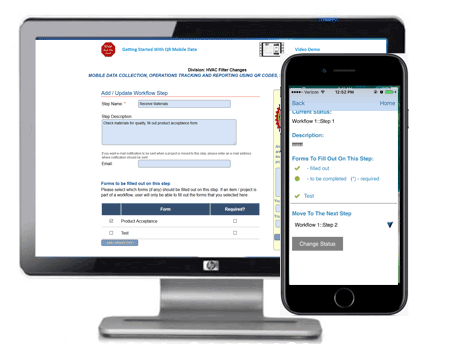 Create Custom Workflows
Create workflows for your business operations or production process. Define steps and provide instructions for each step, so that your employees know what to do.
Attach Mobile Forms To The Workflows
Create custom mobile forms (inspection, checklist, quality control, operations record, etc.), and attach them to the workflow steps.
Track Process On Site Using A Smartphone
Track business operations, production process on site using a smartphone. Move projects through the stages, fill out forms and access information.
Review Real Time Progress
Review real time projects status via a web dashboard. Access life time history of the past projects. Use filters to find information fast.
Notifications & Alerts
Get notified when the project is moved to the next step. Review completed forms, edit via a web dashboard if needed.
PDF Documentation
Create PDF documents for the completed forms. Definne documents look and layout by uploading custom template for each report type.
More On Mobile Workflow Management Get A Quote / Request A Test Drive
Real Time Data Collection, Manufacturing Process Tracking And Traceability - Case Study
Learn how other companies use QR Mobile Data to improve operations efficiency, track production process in real time on the shop floor, have up-to-the-minute insights into the projects progress, and keep accurate digital documentation accessible to all authorized users.
Ionex Research Corporation Interview / Case Study
Ionex Research Corporation, a manufacturer of high-performance process filtration and treatment equipment, uses QR Mobile Data / QR Inventory combo for tracking production process, quality control and documentation. Ionex employees use regular smartphones to collect data, fill out mobile forms, track inventory with barcode scanning and look up information in real time on the shop floor. The result is increased operations efficiency, improved intra-company communications and accurate documentation accessible to authorized employees from anywhere.
Read Case Study
One of the hurdles IONEX was faced with was the amount of data collected at each step of the manufacturing process. It was also challenging to keep information up-to-date and communicate between departments. With QR Inventory, most record keeping tasks are completed quickly and "live" as they happen. The need for physical paperwork is eliminated and everyone in the company has access to the data.
C.M., Ionex
Benefits Of Custom Mobile Forms And Field Data Collection To Business Operations And Workflow
Modern technologies such as qr codes, smartphones and the cloud streamline your business operations. Use of these technologies makes a process of data collection, access and reporting simple, efficient and error-free.
QR Mobile Data helps you monitor and document business processes, projects and tasks in real time. Use custom mobile forms and a smartphone for QR code / barcode scanning, field data collection and access. Store data in a centralized cloud location - and you will always have up to the minute information and proper documentation on all your business operations.
Why Use QR Mobile Data For Field Data Collection And Record Keeping Get A Quote / Request A Test Drive
How To Incorporate Mobile Forms Data Collection Into Your Business Workflow
Are you thinking about implementing mobile forms data collection in your business, but don't know where to start? Want to know more about mobile forms software, and what will be involved in switching to a new way of process tracking and data collection? Is it worth your time, money and effort? This
article
will help you understand this and make a more informed decision.
How To Incorporate Mobile Forms Data Collection Into Your Business Workflow